Exile Audio XM9 HLCD Wakeboard Tower Speakers w/LED (Pair)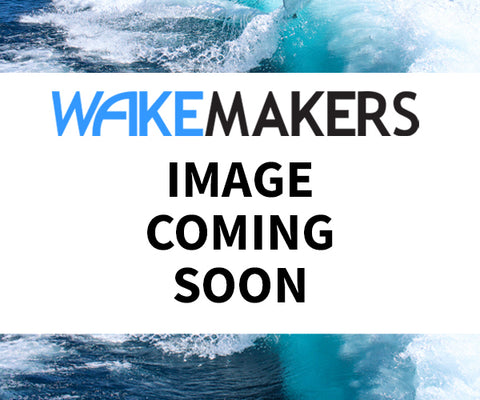 The speakers that put Exile Audio on the map. These 9" tower speakers are extremely versatile, projecting loud, high-quality sound at impressive ranges. If you are wanting tower speakers that can be heard while you are wakeboarding or from the other side of the party cove, the Exile XM9s are the way to go.
Down to the smallest details, the Exile XM9 tower speaker has been precision engineered to deliver high-quality sound that can get real loud. Sold as a pair, these tower speakers include Exile Audio's patented "quick release / rotational" clamping system that makes it possible to spin the speakers a full 360 degrees. Aim them at any target and get ready to blow them away with the unmatched sound quality of the Exile XM9 HLCD Tower Speakers. Another cool feature about their clamping system is you can easily remove them from the tower once you are finished boating for the day. Safely stow them in the Exile Tower Speaker Socks (sold separately) so that they don't get stolen and keep looking amazing.
For an extra touch of style, order the Exile XM9 HLCD Tower Speakers with the available LED upgrade. The RGB LED speaker lighting looks awesome when the sun begins to set but the party is still going strong.
The standard clamp fits most wakeboard towers, compatible with tube towers 1.875" to 2.5" in diameter. There are two available aftermarket stainless steel clamps available if your tower doesn't fit in that range: the mini size for tube towers 1" - 2" in diameter and the full size for tube towers 2" - 3" in diameter. Exile Audio has a selection of tower adaptors that allow for direct mount of Exile tower speakers onto your tower for a clean factory look and perfect fit.
Power Handling
Peak Power Handling (Watts): 500
Continuous Power Handling (Watts RMS): 250
Nominal Impedance: 4 Ohms
Specifications
Effective Cone Area: 44.65" SQ.
Compression Horn: 35mm Titanium Diaphragm
Standard Clamp: Fits 1.875" - 2.5" Towers
Dimensions
Hanging Height: 10.5"
Speaker Height: 9.9"
Speaker Width: 10"
Speaker Depth: 10.2"
Hanging Weight: 10.8 lbs
Warranty

1 Year

Item#

S23485

Warning
WARNING
This product can expose you to chemicals including DINP (Diisononyl phthalate) and DIDP (Diisodecyl phthalate) which are known to the State of California to cause cancer. For more information go to https://www.p65warnings.ca.gov.
Best Price Promise
We want you to receive the best possible deal on your boating products. We match any authorized dealer's advertised price for the same in-stock item. What does that mean for you? If you find the same product in stock at another authorized retailer we'll gladly match their price delivered price. Don't forget that on top of our free fast shipping (on any order over $99 shipped to the Continental US) we also offer our exclusive lifetime technical support.
WakeMAKERS Best Price Promise is only valid on products sold by factory authorized internet dealers.
WakeMAKERS Best Price Promise is not available with any coupons or individual discounts.
WakeMAKERS Best Price Promise is based on the delivered price for the item and will factor in shipping and tax charges.
WakeMAKERS Best Price Promise is only available on an exact, in stock product with a displayed internet price (not price implied after promotions and coupons)
WakeMAKERS Best Price Promise is not available to be applied retroactively, so please contact us us BEFORE placing your order.
If you have any questions about our price match policy, or if you would like us to match a price for you, simply contact us.
Note We have the right to refuse price matching at any time for any reason. In order to qualify for price matching, the item must be identical make, model, year, and part number, and must be in stock. Price matching excludes sale items and previously purchased products.
365 Day Returns
365 Day Returns Your satisfaction is our biggest priority, which is why we gladly accept returns on any new product for up to 365 days from the date your order ships. Refunds will be issued to the original payment method for up to 30 days from the original ship date. Returns on orders older than 30 days up to 365 days will be processed as store credit that can be applied to a future order.
For the full details of our 365 Return Policy, including any restrictions or exclusions, please visit the Returns & Exchanges section on Customer Service page.
Expert Advice
Our product experts bring over 40+ years of real-world experience and knowledge of the boating industry. They really know the gear, because they spend their free time out on the water with friends and family testing the products out.
Product Expert Phone Hours 9am - 5pm (PST) Monday - Friday
Product Expert Email We respond to most emails within 24-48 hours.
Looking for specific installation guides or instructional videos? Check out our Resource Section for detailed information.
WakeMAKERS Online Shopping Tools Our Finder tools are designed to help you pick the perfect product. We've simplified the complex process of finding the right ballast or prop for you boating style and made it easy by doing the research for you.
Our goal is simple; provide the best product, at the best price, with the best customer support.
Free Shipping On Orders Over $99
The last thing you want to do is pay to have your order shipped when shopping online, which is why we include free shipping on all orders over $99*.
*Free shipping offer applies to orders over $99 shipped within the Continental United States and cannot be combined with other discounts or promotions (including coupon codes).